MOMENTS | Mash-up: Mixed-Media Artist Sara Cwynar's Woman Series At Cooper Cole Gallery
We've curated the best of digital age-inspired creativity—from user-generated content, mash-ups, and remixes to collaborations between multi-disciplined makers. 
Artist Sara Cwynar, who begins her projects with found materials and changes them in their recreation, used scans of old adult magazine spreads and distorted them in her Woman series. Her works often play with trompe d'oeil and perception to raise questions about obvious associations in mass-produced images and objects. Woman, as a part of selected works from the Cooper Cole Gallery, was featured at this year's NADA Art Fair at Miami Beach. 
Cwynar is a Vancouver native who currently lives and works in Brooklyn. In an interview with The New Yorker, the artist states, "I am interested in recreating certain familiar aspects of product shots and commercial still-lives…I take a lot of inspiration from old studio photos and how what is once fashionable or forward-looking can come to look absurd with changing styles. Equally, I am interested in contemporary studio photography; the hyper-real, retouched images that we see everywhere."
If you missed Sara Cwynar at the NADA Art Fair at Miami Beach this year, you can still see Woman, as well as past works like her glitch-y Darkroom Manuals series, at the Cooper Cole Gallery in Toronto
For a digital twist on the classics, look no further than one of our briefcases. Use it as inspiration to build yours now. 

Blue Leather Blue Neomesh Black Matte Leather Briefcase, $485.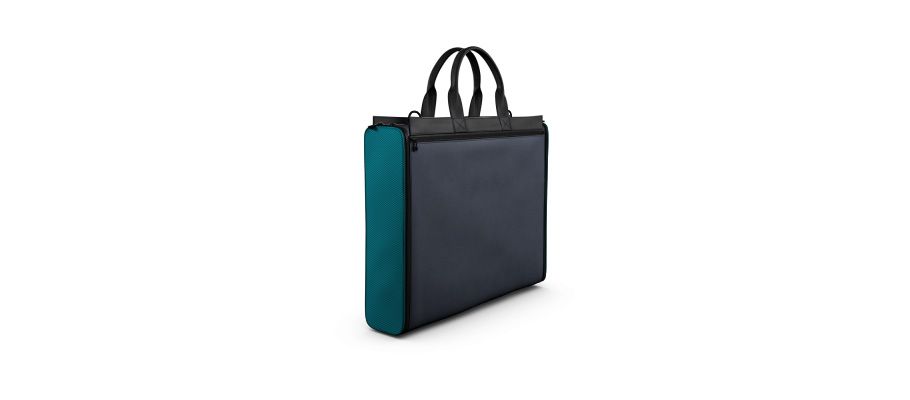 Follow us on Instagram, Twitter, Facebook.
b[Photo source: Cooper Cole Gallery]