BAMIN NOTES | Trend: Musicians in Black, Godmother of Punk Patti Smith x Man in Black Johnny Cash
Traditionally, musicians and performers wear black so as to not detract from the music itself. Of course, black doesn't have to be boring. Legendary musicians Patti Smith and Johnny Cash took wearing black to the next level, making the look an extension of their musical energy. We're snowed in, and as a closer for our All Black Everything theme, we're taking a nostalgic glance back at Patti Smith's androgynous punk styling and Johnny Cash's timeless "Man in Black" on-stage presence.
Often referred to as the "Godmother of Punk" or the "punk poet laureate" Patti Smith's music is a brilliant fusion of poetry and punk rock, and her androgynous, menswear-inspired wardrobe has made her a long-time muse for designer Ann Demeulemeester. Though Patti Smith is still killing it in the style department and still has a penchant for wearing lots of black (and black leather), she used to give her outfits more whimsical names: the "tennis player in mourning," a black-on-black ensemble paired with white Keds; her Anna Karina-inspired in Bande à part look echoed the dark sweater, plaid skirt, black tights and flats; and her long black sweater, black tights, white socks with Capezios take on Audrey Hepburn in Funny Face.
Patti Smith's style has an affinity for masculinity, though we like to think of it as more utilitarian. For that practical yet stylish punk rock cool, accessorize your favorite leather motorcycle jacket with a unisex Black Leather Carryall $515.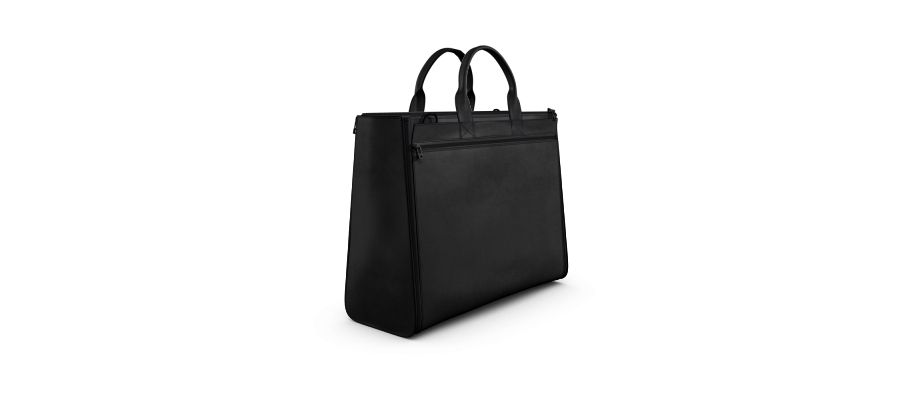 Johnny Cash may be a country music icon, but his music also notably blended elements of rock and roll, rockabilly, blues, folk, and gospel. And while Cash has a famous protest song titled "Man In Black," he was also known for his on-stage styling as the "The Man In Black." Cash actually owes his signature look to stylist Manuel, who made Cash nine all black outfits because there was a special on black fabric (how practical!) but told Cash, "'You should wear this color. It's your vibe, it's your aura. Something tells me you should wear this color.'" Johnny Cash's head-to-toe black looks completed his image as the sensitive outlaw.
If you plan to embody the spirit of The Man In Black, you'll need a black button-up, a long and tailored leather coat, slick boots and this Leather Overnight $515 for those long trips away from June. Just don't forget to kiss her before you go.